Lighting up like a Christmas tree
Different students share their family traditions in regard to their Christmas trees.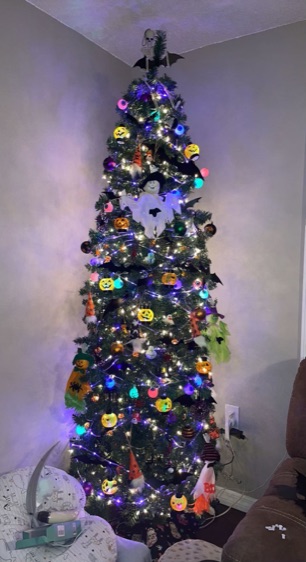 Kayleigh Girard ('24) started a holiday tradition last year. Since 2020, she keeps her family Christmas tree up 24/7, decorating it for each holiday.  
"I've had my tree up since November 2020, and I've left it up ever since, decorating it for all the holidays in between. Since we weren't able to go anywhere, it was kind of a way to keep myself entertained," Girard said.  
Girard decorates for all the main holidays including Easter, the Fourth of July, and St. Patrick's Day, but besides Christmas, she has two other favorite holidays to decorate for.  
"For Christmas we have all our family ornaments, and stuff, so my favorite holiday to decorate for has to be Halloween or Easter, those two were my favorite trees," Girard said.  
An exchange student from Germany, Selina Harthauss' ('24) host family has a similar tradition. After having the tree up last Christmas, they decided to leave it up for the whole year, too.  
"I think they had the tree last winter, for Christmas, and then it was my host sister's birthday. So, my host mom decorated it with a Harry Potter theme and then they just didn't take it down because it looked good, and they thought about decorating it for other things," Harthauss said.  
The family uses decorations found around the house to decorate for the different holidays.  
"They just have from their normal decorations. And for fall we decorated with just a few leaves that they usually put in the house," Harthauss said.  
Leah Gibson ('25) decorates the tree with ornaments that her mother made when she was a child.  
"We put up the Christmas tree the weekend after Thanksgiving, and then we decorate it with ornaments that my mom made when she was a kid. After that, within a few days we go to my grandma's house and do the same thing with my grandma," Gibson said.  
Gibson plans to continue doing the family tradition when she's older with ornaments from when she was a child.  
"My grandmother and my great grandmother started [the tradition]," Gibson said.  
Anyone wanting a little more Christmas tree cheer, check out the Victorian Christmas Stroll in Tampa FL, from Dec 1 to Dec 23. Admissions are $16 for adults, $14 for seniors, and $10 for youth, from 10:00 AM to 8:00 PM.