Bunny, I am home!
Students tell their yearly Easter traditions.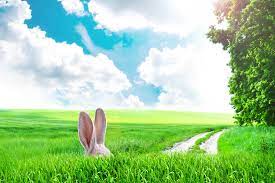 Hopping into spring, Christian students prepare themselves for the holiest day in April. Surrounded by colorful eggs and fluffy bunnies, it is clear to see Easter is coming around the corner. Easter is significant to the church community for it is the day that Jesus had risen from the dead according to the Christian religion. 
Starts early on her Easter morning, Kaila Kowalczyk ('24) tells her early hour Easter traditions. "Every year my family and I wake up early, eat breakfast, and go to church. After we go to my uncles' house for an easter party with the rest of my family." Kowalczyk said. 
While gathering with family, Gavin Constantine ('26) takes in the quality time he gets to share with his relatives that he does not have the opportunity to see frequently. 
"Easter is a great day for me because I get to see family that I do not normally get to see" Constantine said.  
Aurora Lineman ('25) shares her appreciation of the environment in church during Easter. 
"My favorite thing about Easter is the gratitude shown in church and the energy of people telling you 'Happy Easter' just like any other holiday." Stated Lineman. 
Although Easter is titled as a Christian holiday many people who do not label themselves religious still partake in this holiday. Riley Payne ('25) says how even though she is not religious she still partakes in this holiday. 
"I celebrate Easter because my parents are Christian, I used to go to church growing up, but me personally I am not into any religion, but I respect their religion. I also like chocolate." Payne shares. 
No matter what, when, or who is celebrating Easter, everyone is grateful for their quality family time and the golden egg. Wishing all a basket full of egg-citement this Easter.