Inducting the next generation
The NHS candlelight induction happened on May 18, in the school gym.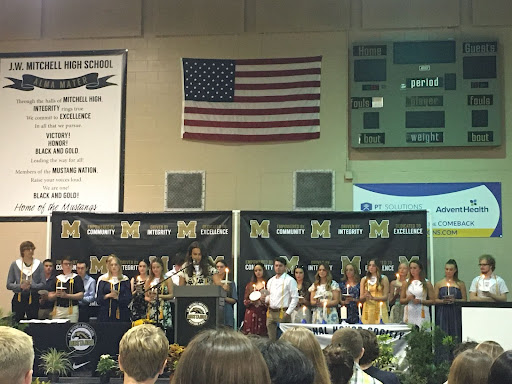 On May 18, at 6:30p.m., parents lined the bleachers, and around 75 students sat in chairs on the gym floor, waiting to be inducted into the club. Starting with 10th grade, they called the students up to sign their name into the registry book, and lit their candle. Ms. Denise Crabtree (FAC) has served as advisor of NHS since 2015.
"NHS has four pillars, but all of it's based on knowledge. So we have a big candle that's called the candle of knowledge and then four smaller candles that represent character, service, scholarship and leadership which are the other four things that we espouse in our [society] and they light the candle. They say a pledge that recognizes that they are agreeing to uphold all the characteristics and qualities that those pillars represent. It's really a neat ceremony, and then you get to see everybody dress up," Ms. Crabtree said.
After a meeting between Ms. Crabtree and the new officers for the next NHS team, they decide what worked best this past year, and what they might want to change.
"Because of the COVID restrictions we had to change the way that we did some things like our meetings and the way that students were able to volunteer, provide community service and tutoring. Now we are back to a point where we kind of know what to expect and we are able to go back out and physically be with people. We're going to begin to require more of that,and one of the things we're definitely talking about is mandatory club meetings. You're going to have to physically come and we're not doing anything remote anymore. We do club committees and every member has to be a participating member of one of our committees both semesters. We were talking about the ones that we felt went really well last year, and the ones that maybe we want to rethink or not do at all," Ms. Crabtree said.
At the induction Mrs. Crabtree talked about some of the things NHS did this past year like the "We see you, ICU drive," teacher appreciation, raising awareness for the MS walk, and many others. They plan to continue to do a lot of these service projects next year.
"It was a really good year. We had a great officer team. We did a new committee where we raised funds for the ICU workers at Trinity hospital, we were able to put together 40 gift bags with self care items, food certificates, and gift cards to [places] like Chili's, Chick-fil-A, and a couple other places. They work hard and it was so nice to show our appreciation for them and to see how much they appreciated it," Ms. Crabtree said.
As advisor, Mrs. Crabtree gets to work closely with the officers on the NHS team.
"It's part of what's fun every year is getting to work with the officers. In my role at school, I don't really serve students, I do get to interact with students and other teachers classrooms, and I miss that. It gives me an opportunity to kind of work with the students, see the potential and I get to see them grow as leaders. I feel like I learned a lot from them and I hope that maybe they learn a little bit from me," Ms. Crabtree said.