In the long run
Cross Country runners continue to improve their times, meet after meet.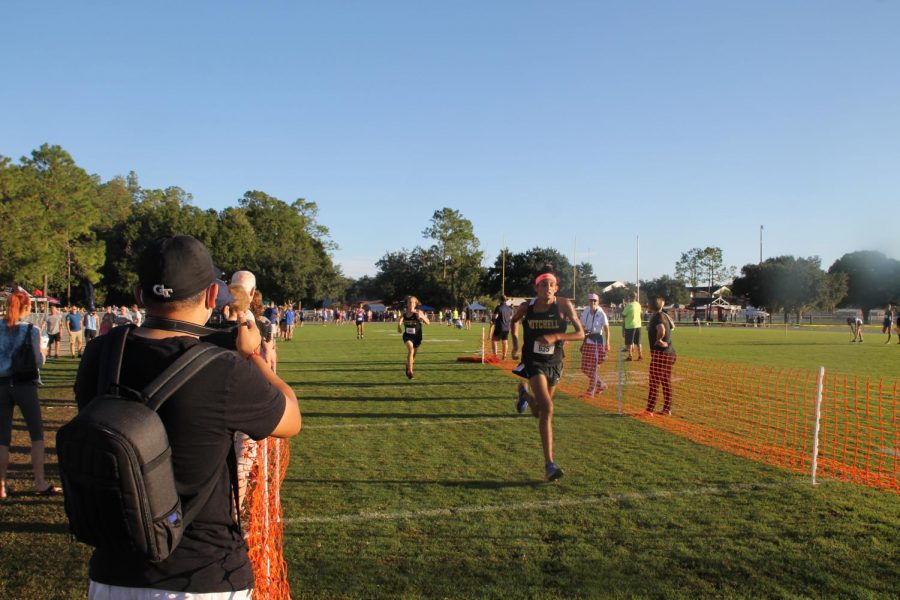 On Sept. 25, more than ten school tents lined the fence of the River Ridge High School next to the bleachers. Cross country team members huddled under the tents, talking and encouraging each other. Just around 8:30 a.m., the varsity boys approached the starting line and waited for the pistol.  
   The boys' varsity team came in 6th place, while girls' varsity came in 2nd place. At their last home meet on Sept. 15, boys' varsity came in 7th place overall, and girls' varsity came in 3rd place. 
   With no assigned captains, the teams selected their own sort of leader, Kayla Groppe ('22), for girls' varsity, and Joshua Hindman ('24) for boys' varsity. 
   "I definitely don't regret [becoming team leader] because if anything, it's connected me to more people. When coach tells me to do stuff, he kind of gives me a responsibility. I just have to bond with people, and it's not a burden. It's really fun," Groppe said. 
   Groppe ended up running a 20:58, and placed 6th. Hindman went from an 18:14 time to 17:55 between the two meets, and placed 18th. 
   On boys' varsity, Hindman, Hunter Viens ('24), Trystan Capille ('23), Brady Pavlica ('24), Dean Washington ('22), Bredan Wells ('23), and Jacob Steven ('25) all improved their times, some even ran a new personal record (PR). Rostyslav Manko ('25) ran a 23:21 time, and Nathan LeBlanc ('25) ran 24:38. 
   "We're really good, we're like a family, we usually bounce off each other quite well, push each other to do better," Washington said. 
   Groppe, Nella Peterson ('23), Adia D'Piazza ('23), Jessica Erwin ('23), Genavive Newton ('23), Paige Peters ('23), Lily Sarakun ('24), Jaelyn Slawiak ('23) shaved a minute off their times from the Sept. 18th meet. Karley Rush ('24) ran a 25:11 time. 
   D'Piazza checks in with the team regularly, because she believes running is a mental sport as well as a physical one.  
   "I like to go out of my way to talk to everyone, make every single individual person feels comfortable on the team, because we're all in this together. We don't want one of us to feel down because that can really affect your running before a race, and it can affect your mentality. When it comes to cross country, physical strength is just as important as mental strength, because you're pushing yourself to go faster, and it's hard when someone passes you in a race because it's sort of slows you down," D'Piazza said.  
      The teams have a district championship on Thurs. Oct. 28. Fans can go to trcrace.com to check out all the past cross-country results.