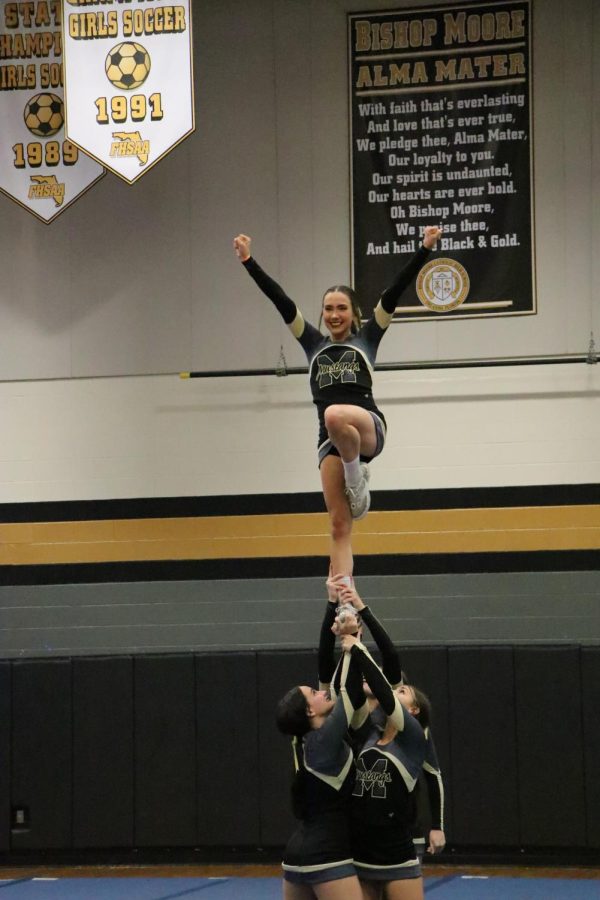 With passion and determination, a cheerleader flies high
Senior Taylor Cook has been selected by her coach to be the Gregg Schindler Athlete for March.
Taylor Cook ('22) started cheerleading when she was eight year old, after joining a cheer camp at a gym nearby.
"I had a background in gymnastics and I decided to try it out. Ever since my first day there, I knew that would be the sport that I would be in for the rest of my life," Cook said.
The first three years at Mitchell, Cook had a hard time balancing everything that was going on, but this year she was able to focus on cheerleading.
"It was really difficult for me to balance school work, cheer, and building the relationships and friendships that I should have been building during high school cheerleading. I'm really grateful that my senior year I was really able to focus and put all my energy into the team and becoming friends and creating that family dynamic with the girls on the team," Cook said.
Cook was a captain and a flier on the team, so she did many things to help the team to get them prepared for competitions.
"I would let them know how we can do better and come together to make things happen. I tried to take my role very seriously as a captain this year because I know how much of an impact that the captain can have on the rest of the team," Cook said.
Cook and the team faced a lot of challenges throughout the cheerleading season, but were able to come together in the end.
"At the beginning of the season, we did not really have a competition team. We had to kind of pull one together at the last second. We had to deal with some people leaving, some people getting hurt. We just had to dig deep inside of ourselves and find the power to push through the season, and I really think that's what made us all come together towards that end," Cook said.
This season the team made it to states, and were in the Medium Division 2 Non-tumbling category. Cook says her greatest accomplishment was placing second in states.
"Honestly that was a really great way to wrap up my season. That was a really big title for Mitchell and it was a really big deal to the whole team. It's what we were working for the entire season," Cook said.
Coach Jennifer Mitchell (FAC) selected Cook for this honor because she is a four-year varsity cheerleader and a captain this year.
"She is an incredible all-around athlete, able to perform any position asked of her without hesitation. The entire program looks up to Taylor and respects everything that she has to say. The success the competition team had this season would not have been possible without Taylors guidance and leadership," Coach Mitchell said.
After high school Cook is going to a local community college, she hopes to someday coach cheerleading.
"Coaching is something that I love doing. I love passing down my knowledge of this sport, and I'm just super excited to see what the future of cheerleading holds for me. Jen and I are still in contact. So [I'm] thinking we can work something out in the summer after that, [an] assistant coaching position or something like that," Cook said.
Congratulations to Taylor Cook for being the Gregg Schindler Athlete for March.