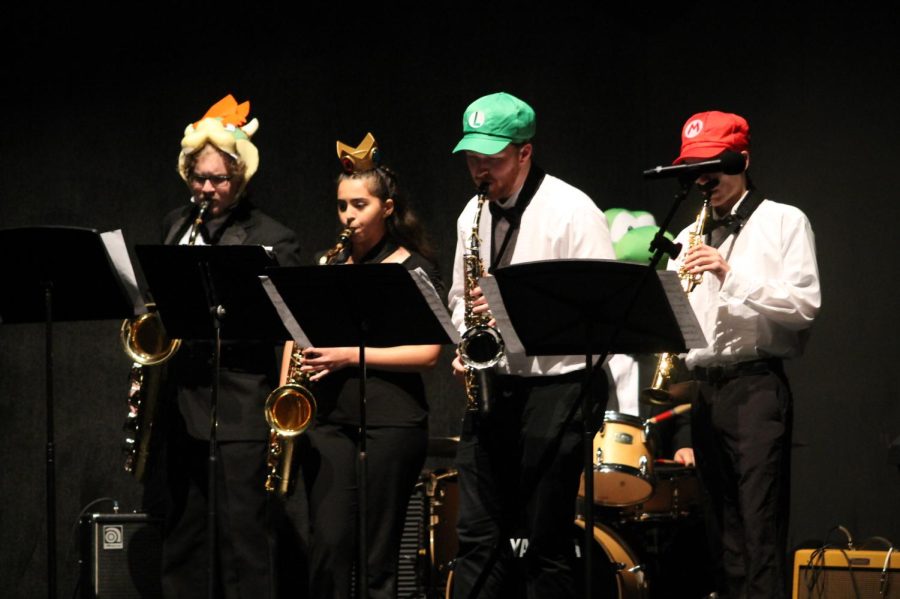 Playing his way to the top
Titus Johnson, a senior at J.W. Mitchell High School, is this month's Gregg Schindler Club Member of the Month for his participation in the Marching Mustangs
Titus Johnson, has been a member of the Marching Mustangs since his freshman year, and has been a leadership member for two years.
Johnson plays multiple instruments, including the barrysaxophone, the piano, viola, and double bass.
"Bassoon is my favorite because it was my very first instrument that was chosen for me in sixth grade, and I've stuck with it ever since. It's one of the most complicated instruments in the band, and I love it for that," Johnson said.
On top of his dedication to the band, Johnson currently takes five Advanced Placement (AP) courses, is a member of Mu Alpha Theta, and is the Parliamentarian for the Mitchell chapter of National Honor Society (NHS).
"I mostly just record NHS members requirements for the club, tracking meetings, tracking the requirements for committee hours, and service hours as well. Right now I am taking AP Psychology, AP Government/microeconomics, AP English Literature, AP Computer Science, and AP Music Theory," Johnson said.
Johnson currently has multiple offers from four year universities, and has yet to commit to one. He plans to continue playing the band wherever he goes.
"I am stuck between a few really good choices right now. It'll be a few months before I decide. Embry Riddle Aeronautical University, University of South Florida, and Florida Institute of Technology are my best choices right now. I am hoping that I can [continue band in college] but it all depends on which college I go to. If the college I go to has a band, I will definitely join it," Johnson said.
Mr. Ryan Harring, the Director of Bands and Orchestra for JWMHS recommended Johnson for this honor. He spoke of Johnson's commitment to the band and his leadership potential.
"When I read the award description, his name was the first one that popped into my head.  He is a hard worker, great leader, solid musician, and one of the top academics at the school – it was a no brainer for me. He is one of the most organized and thorough leaders on our leadership team. He is also a student that understands how to work with other students and hold them to a high standard," Harring said.
Congratulations to Titus Johnson on receiving the honor of Gregg Schindler Club Member of the Month for February for his participation in the Marching Mustangs.