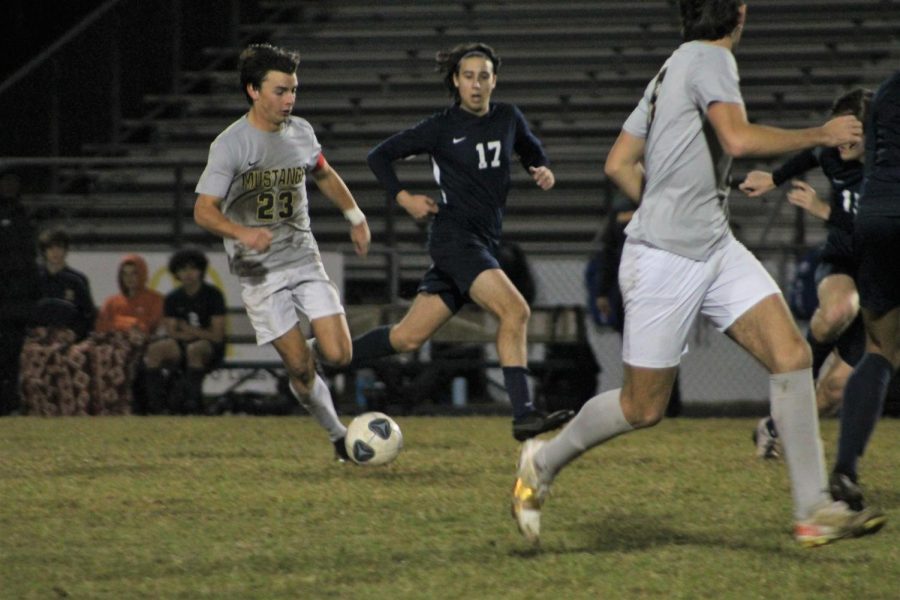 In it to Win It
Dominick Phanco ('22) was awarded with Gregg Schindler Male Student Athlete for February
Starting soccer at the age of four, Dominick Phanco ('22) holds the captain position of the J.W. Mitchell varsity boys soccer team fourteen years later. Soccer was the first sport he started playing and decided to stay with. Phanco's first year as captain has been successful. The team has won 16 games, 5 of which were tournaments, the latest one being against Jesuit on Jan. 8.
"[At] the Jesuit tournament we were the lowest ranked team in our bracket and ended up pulling out a win, so that was awesome," Phanco said.
The regular season came to an end with a total of 21 games played. The last game of the season was an away game against Land o' Lakes on Jan. 17, that ended with a win. This continued the team's two week winning streak. Phanco has been inspired over the years from famous soccer players and his own family members.
"As far as soccer goes, my role models are players like Messi, but my role model in my life is my dad. Everything he does for me inspires me to push harder every day," Phanco said.
Oscar Ubillus, the boys varsity soccer coach, nominated Phanco for Gregg Schindler Male Student Athlete of the Month.
"Dom is our leader and well-deserving of this award. He's exactly what you want as a coach from your senior and captain. He continues to put forth maximum effort on and off the field setting a good example for his teammates. We look forward to seeing how far he can lead us in the postseason," Ubillus said.
As Phanco's last season of high school soccer comes to an end. He is committed to University of California Santa Barbara where he will continue to play D1 soccer for the next four years. Congratulations to Dominick Phanco, Gregg Schindler Male Student Athlete of the Month.