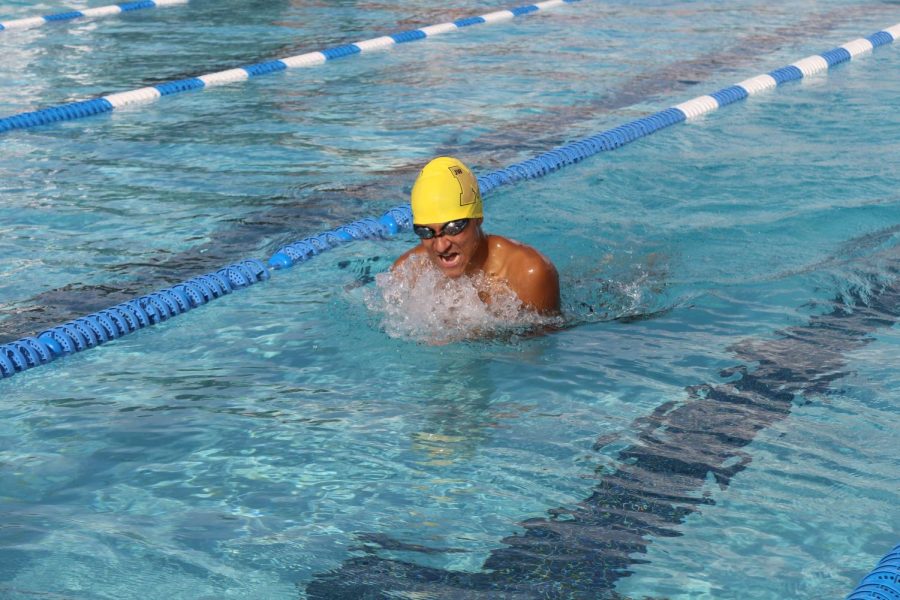 Swimming for success
Antoine Fournand ('22) was selected by his coach for the Greg Schindler Male Student Athlete for November.
Head captain of the J.W. Mitchell swim team, Antoine Fournand ('22), started competitively swimming his sophomore year at Mitchell because he wasn't doing any other sports and had friends already on the team.
"Swimming is so competitive yet so friendly. All the teams have the will to win, but they all support one another because we all realize how tough swimming actually is," Fournand said.
They typically practice on Monday and Wednesday mornings and on Tuesday and Thursday after school at the JP Gills YMCA. This year, Fournand led the boys team to win District championships on Oct. 28.
"It felt really good, I was really excited to win but also very proud of my younger teammates. And winning it as a captain really means a lot," Fournand said.
Swimmers compete as a team and also as an individual making both teamwork and self-motivation important. Being on the team helped Fournand create strong bonds with his teammates and learn from his coach.
"I think, now since it's the end of the season, everyone is friends and we all have a super great mood every time we swim. I'd almost refer to our team as a family. The coaches are motivations to all swimmers, they bring us happiness and a lot of knowledge, and they are always there to push us," Fournand said.
The swim and dive coach, Kelly Erickson, has been coaching for nearly ten years. She coached Fournand and the rest of the boys swim team to districts this year.
"In a decade of coaching, I can honestly say that Antoine is one of the hardest working swimmers with whom I've worked. He gives 100% at every practice and every meet. He is liked and respected by his teammates and his warm personality makes even new team members feel welcome. Antoine encourages his team and leads by example," Erickson said.
This season concludes Fournand's last year of high school swimming. At the moment, he still plans to continue club swimming in college. For now, he will continue competing on Nov. 5 at Regionals.