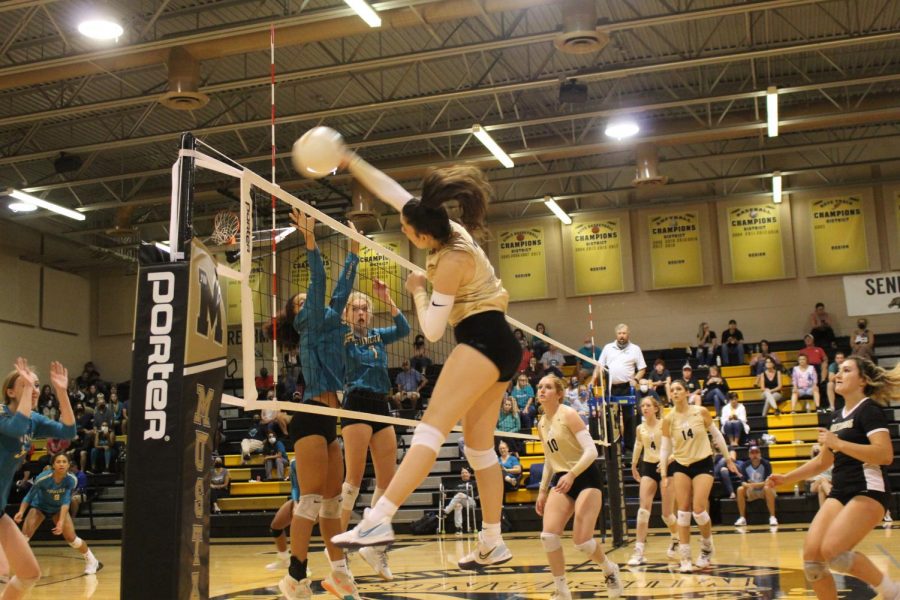 Killin' it
Caroline Knight dominates on the volleyball court, earning the title of Gregg Schindler Athlete of the Month for October 2021
The female Gregg Schindler Athlete of the Month is Caroline Knight, an outside hitter and junior on the varsity volleyball team. Knight earned this honor by exceeding the national average for sets played, hitting percentage, kills, and triple blocks, and by impressing her coaches and her teammates.
Knight began playing volleyball in seventh grade at the YMCA. Through both practice and skill, Knight earned player of the match twice this year.
"She has made a great improvement since coming into summer workouts and it helped us get the season off to a great start with three big wins. In a span of three games, she had 42 kills and was our player of the game against Wiregrass Ranch," Coach Lea Weber (FAC) said.
Over the years, family played a large role in Knight's athletic career.
"My parents have probably made the biggest impact on my volleyball life. They support me and come to every game that they can. They have also helped me in the recruiting process to play college volleyball. Every year I have been one of the youngest [team members], so my older teammates have definitely been big role models for me and have coached me to become a better player," Knight said.
Standing at 5'11", Knight is significantly taller than the national female average of 5'3" to 5'4". This gives her an advantage in her position as an outside hitter.
"I'm an outside hitter because I love hitting, which is the outsider's main job. [I'm also a hitter] because of my height. I love earning as many points for my team as possible. Right now, I am leading the team in kills," Knight said.
Through her three years as a varsity athlete, Knight has worked with her coaches to improve her abilities, and began working closer with her teammates to win games.
"Caroline has such a fun, easy going, goofy personality. She gets along with everyone. The team loves her. Her personality and her ability to keep her teammates upbeat. I am always proud of Caroline. She has really stepped up when the team needed her and she has come a long way since freshman year," Coach Weber said.
Knight's final game of the season will be at home versus Palm Harbor University High School at 7:30 pm. Come out and support Knight and her fellow mustangs as they take on the Hurricanes on Oct. 14.